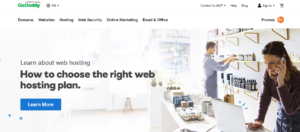 GoDaddy needs no introduction.
Everyone knows them. Everyone saw the Super Bowl ads over a decade ago. Everyone recognizes spokespeople like Danica Patrick.
Even your parents, who annoy you on Facebook and still don't know proper texting etiquette, recognize GoDaddy.
They were founded in '97, over two decades ago. They were originally known as Jomax Technologies back then.
Jomax errr… GoDaddy, was started in Baltimore, Maryland, before seeking warmer climates (literally) in Scottsdale, Arizona.
Bob Parsons, the founder, knew what he was doing: He sold his previous company to Intuit for a cool $65 million bucks a few years before founding GoDaddy.
Just last year, they made an eye-watering $2,231,900,000 in revenue, according to our friends at Wikipedia. They're reportedly the biggest domain registrar in the world, with over 6,000 employees servicing 17 million customers.
So yeah, you could say they're doing OK.
But here's the thing – size doesn't always matter. (At least, not in web hosting.)
Many of the biggest brands we've tested have posted the worst results. They have more money, seemingly more people, and servers, and yet their performance is awful. It doesn't make any sense.
Which camp does GoDaddy fall under? Do they make many of the same mistakes as some of the other well-known brands in the hosting industry? Or have they been able to side-step a lot of the problems that plague their competitors?
You can even play along at home, digging into the Pingdom uptime and speed results, too.
Let's see how they fared.
Pros of GoDaddy Hosting
GoDaddy has more money than some countries. They've been in the industry for over 20 years.
Apparently, they've learned a thing or two along the way.
Here are some of the highlights we saw.
1. Good Uptime of 99.96%
GoDaddy performed well right out of the gate, posting a 99.96% uptime average over the past ten months.
In this case, 'no news' is definitely good news. You don't want to notice your host's uptime. Because if you do, chances are, it's because your site is down again.
2. Great Page Speed
After keeping your site live, a web host is only as good as its speed.
Why?
Because the internet is obsessed with it.
Slow page speeds mean fewer visitors, less revenue, and fewer conversions across the board.
It's true: A reported 79% of customers won't purchase from a site again if they had a slow experience.
Speed is so important that even Google has debuted an entire toolset to help everyone out.
Now, we've seen some fast speeds over the past few years. After testing dozens of hosting companies, we've grown accustomed to strong page loads in the low ~500ms range.
Even we were surprised at GoDaddy's performance these past ten months.
3. Additional Services Thrown In
GoDaddy might be known for domains and hosting, but it seems they have every product under the sun for small business people.
That means they can serve as your one-stop shop. There are countless complementary products that will play nice with your new website.